The US runs of DAEMON is announced
Journeys and Tales are happy to present the US production of Daemon, a larp by Katrine Wind.
"Daemon" is a collaborative, vintage-style steampunk-ish larp that focuses on the connection between a human and their manifested inner self or soul – the Daemon.
The core vision for this larp is experiencing how it is to play the same character as someone else and be in symbiosis with them. You don't sign up in pairs to be family, lovers, or anything of the sort – but two parts of the same being.
Dates: 1st run – Friday March 31 – Saturday April 1, 2023. 2nd run – Friday April 7 – Saturday April 8, 2023.
Location: Austin, TX.
More information: www.journeysandtales.net/daemonlarp/
FB interest group: https://www.facebook.com/groups/1399444190539364/
The larp is set in a world inspired by the trilogy of novels "His Dark Materials" by Phillip Pullman. The setting for the larp is a free interpretation of what could happen after the author's trilogy ended.
Journeys and Tales will be producing Daemon for two runs in the US in 2023, and will also be bringing the original creator, Katrine Wind, over to carry out the actual game running.
The game will be identical to the one that has run in Denmark, and we're excited that we get an opportunity to bring it to a US audience.
Just as in the original run, it will be required to sign up in pairs, and more information about that can be found on the website.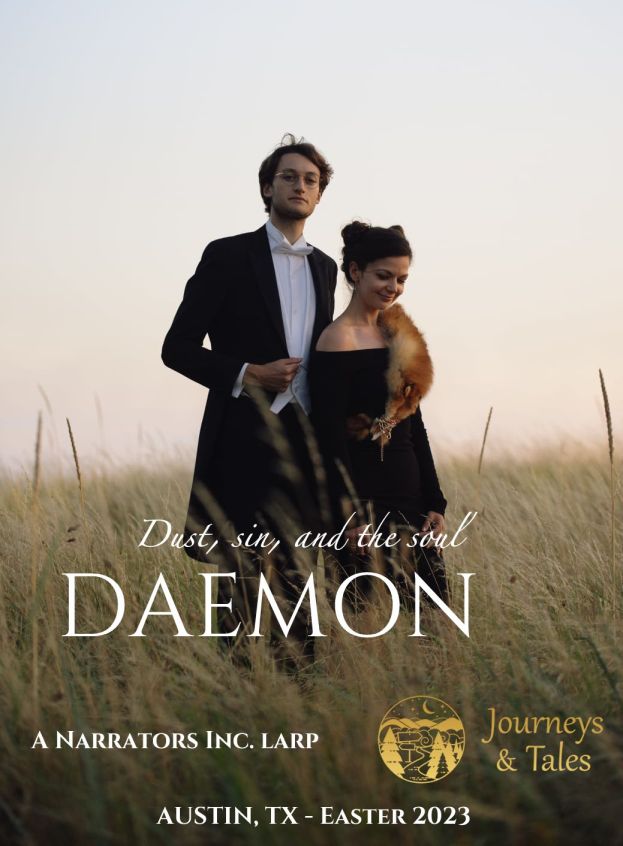 About Journeys & Tales
Journeys & Tales LLC is a larp production company formed in 2019, with the express goal of creating Nordic Style larp events focused on Adventure, Excitement, and a high Commitment level to delivering an impactful and meaningful experience.
We believe that larp is a media, hobby and way of storytelling that can create experiences and memories like few others in life, and we welcome you to take a look at our site, to learn more about us.
We create games and scenarios that are generally heavily focused on story telling, light rules, heavy consent mechanics and jointly lifting and creating the best experience for all players and organizers.
"Tales are as much the necessary fabric of our lives as our bodies are."
– Robin McKinley, The Outlaws of Sherwood