Seraph is planned for fall 2024
We are happy to announce our next event, Seraph. Scheduled for two runs in fall 2024.
Seraph is a Nordic Style, mechanics light, occult thriller larp for 24 participants and 2 guaranteed reserves that explores the topics of loss, desire, and how far people are willing to go to obtain what they want the most. It will be a personal, Type 2 experience focusing on deeply interconnected roleplay and giving players an intense, emotional game that doesn't necessarily guarantee a happy ending.
All characters crave something they cannot obtain. Some have lost a loved one, some have given up on a cherished dream, and others are consumed by longing. In desperation, they have turned to the occult and spent the last 12-15 months in an online esoteric study group led by a man named Gabriel, who has the power to give them a chance to have what they desperately want.
Before the weekend ends, characters must answer several difficult questions, and Sedael grants them the opportunity to earn their key:
How far are you willing to go to obtain what you desire?
What are you ready to give up in exchange?
Is any cost too great to stop you when you're so close?
See more on www.journeysandtales.net/seraphlarp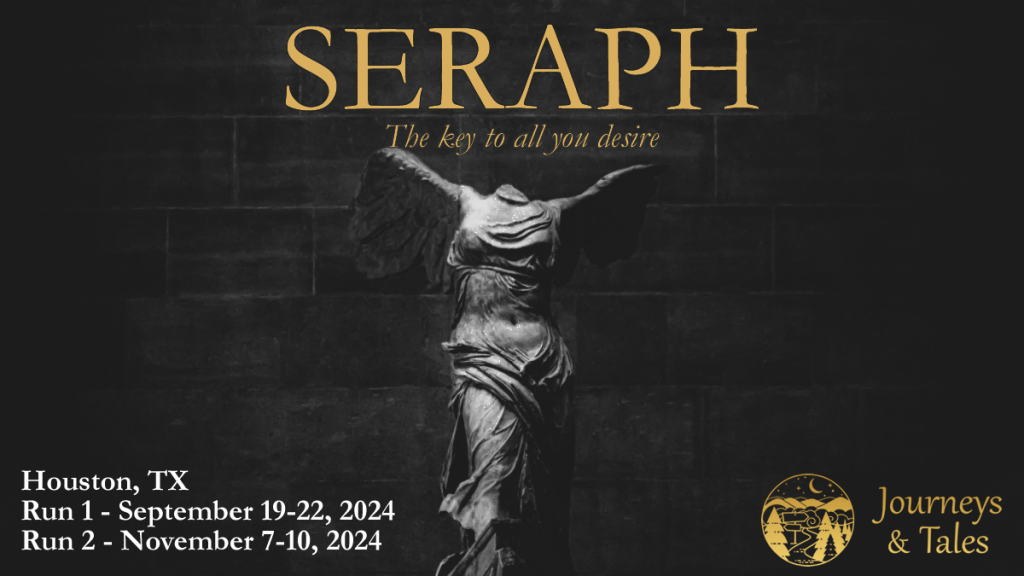 About Journeys & Tales
Journeys & Tales LLC is a larp production company formed in 2019, with the express goal of creating Nordic Style larp events focused on Adventure, Excitement, and a high Commitment level to delivering an impactful and meaningful experience.
We believe that larp is a media, hobby and way of storytelling that can create experiences and memories like few others in life, and we welcome you to take a look at our site, to learn more about us.
We create games and scenarios that are generally heavily focused on story telling, light rules, heavy consent mechanics and jointly lifting and creating the best experience for all players and organizers.
"Tales are as much the necessary fabric of our lives as our bodies are."
– Robin McKinley, The Outlaws of Sherwood